The M.A.D. House Artists is an artists place in Oklahoma. Located on the shores of Grand Lake, we offer an environment for artists of all interests to pursue their bliss. The basis of our book collection was inherited from reading grandparents, parents and the present generation of avid readers and collectors of wonderful books.
     Twenty years ago our interests were focused on finding rare books on obscure subjects as the mood hit us. Then one day we went to the local library sale. We had noticed our favorite books disappearing from the shelves. From that first library sale in 1991, we came home with $72 in ten-cent books. As the libraries disappear and downsize, we have even found ourselves diving into dumpsters to rescue the printed word from obliteration. One late night frantic call from friends of a nearby library yielded 1500 books callously discarded by, believe it or not, the librarian. It has become our crusade to make these precious objects, scheduled for shredding and for the landfill, available to the readers who have loved them. Many of our books are marked 'withdrawn', but many more were clean donations which did not even make it to the library shelves. Recent acquisitions include a number of very nice first editions from fiction writers, a large number of golfing tomes, scientific works, biographies of people from many different walks of life, children's books and some lovely old romance novels from the 1950s.
     It is the purpose of books.themadhouseartists.com to make available all these books: real books, old books, new books, well-worn and well-loved books, beautiful books, ugly books, books in demand and books people have forgotten. Our online book selling began in 2005, but our interest in reading, collecting beautiful books, encouraging writers and promoting the printed word goes back several generations.
     At our home website, themadhouseartists.com we have pages telling about writers of our acquaintance who are currently writing and publishing books, dancers, graphic artists, fabric artists, musicians, our adventures at gardening, our many and varied pets (llamas to lizards) and other subjects of interest. Please be our welcome guests. 
      We at books.themadhouseartists.com hope our selection of books is pleasing to your heart, and that you will visit again and share with us a love of reading.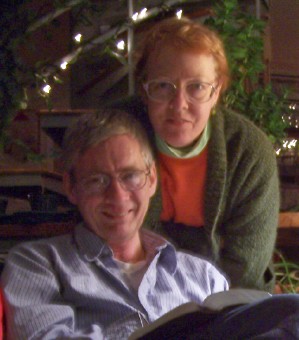 Join us on twitter at http://twitter.com/bhaskardancer