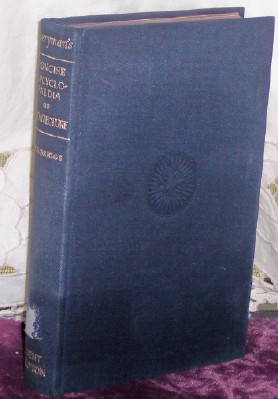 Author Name Briggs, Martin S., F.R.I.B.A.
Title Everyman's Concise Encyclopedia of Architecture
Binding Hardcover
Book Condition Fine
Jacket Condition No Jacket
Edition 1st Edition
Publisher J.M. Dent & Sons Ltd, 1959. MAde in Great Britain at the Aldine Press-Letchworth-Herts for J.M. Dent & Sons Ltd, Aldine House, Bedford Street, London 1959
Seller ID 8000
no dust cover, library labels outside and inside, First edition, published 1959 in Great britain, J.M. Dent and Sons Ltd. With line drawings by the author, and 32 pages of photographs. Cover and pages like new, dedication to the library inside front cover. Clothbound, compass rose embossed on front cover. On the title page the compass rose is surrounded by the words "Everyman I will go with thee and be thy guide". A Clean, tight first edition. very nice copy. Our book number 8000.
Price = 20.00 USD